Benefits of using a cleaning supplier with ISO accreditation
ISO Accreditation is an internationally recognised certification which demonstrates a businesses' commitment to continually improving processes, service, safety and environmental practices.
Achieving ISO accreditation is a costly and time-consuming process, however, once the accreditation process has been completed and the new systems implemented, the benefits speak for themselves. A business that has ISO accreditation for Quality, Safety and Environmental management reaps the benefits of improved customer satisfaction and optimisation of their operations by minimising waste and errors, and therefore improving the bottom line.  The quality and transparency of their integrated management systems improve efficiency, work processes, productivity, monitoring and reporting.  This results in the organisation having clear and documented processes for standard operating procedures embedded in all aspects of their operations and across all levels of their organisation.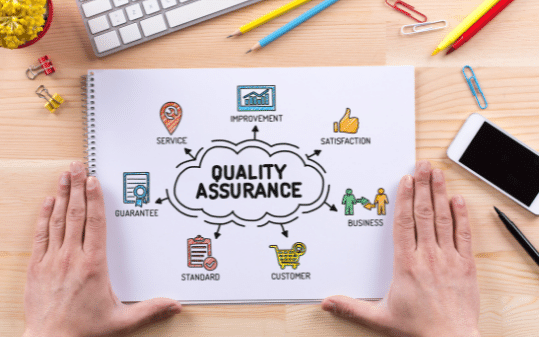 Understanding the benefits of using a cleaning supplier with ISO accreditation for Quality, Safety and Environment.
When an organisation becomes ISO accredited, it means their existing systems become integrated to ensure they all systems work more effectively together, are documented and recorded. Processes are put in place for regular reviews, feedback and client-lead evaluation to provide continuous improvement which benefits the customer and ensures the working relationship is optimised for ongoing success.
ISO certification for Quality (ISO 9001:2015) puts significant value on a business's ability to improve the quality of its customer service. Integrated systems are implemented for clear workflows, consistent performance delivery, and work efficiencies and to ensure quality outputs. Standardised systems are in place to process and address customer complaints and provide consistency in conflict resolution. Systems for customer lead evaluation are included for two-way communication and feedback and are documented and recorded for transparency and continuous improvement.
ISO certification for Safety (ISO 45001:2018) involves integrated systems for the effective management of risks and compliance with WHS regulatory codes to provide a safe and healthy work environment in the workplace. It promotes a safety culture within the organisation to ensure safety is top of mind and constantly monitored and improved.
Environmental management certification (ISO 14001:2015) means the business has developed processes and procedures to identify, prevent and mitigate environmental pollution and manage their operations in a way that minimises impact on the environment. Staff are trained to understand the importance of environmental performance targets and incorporate them in their work practices.
ISO certification for Quality, Safety and Environment is an accreditation that businesses must earn. For a business to maintain their ISO certification an annual independent audit is conducted by an accredited government agency. This involves meeting strict and clear assessment criteria for the ISO certification to be awarded year on year. This annual review process provides clients with confidence that the supplier organisation is performing at is best to improve quality, in terms of customer service and performance delivery, and is meeting the highest safety and environmental standards.
White Spot Group is proud to hold the highest award for ISO accreditation for professional cleaning services available – the triple certification for Quality (ISO 9001:2015); Safety (ISO 45001:2018), and Environmental (ISO 14001:2015) management. This integrated management system enables us to continuously improve performance and focus on providing customers with consistent high-quality services that exceed expectations and guarantee 100% satisfaction.
Call now to speak with one of our friendly team to arrange an obligation free site visit and price estimate to suit your organisations cleaning needs and budget. 1300 797 632