White Spot Group offer professional cleaning to the hospitality industry – whether you're a large-scale restaurant, function centre or small café. We recognise that health, safety and hygiene are crucial to the success of any food service venue, and understand the responsibility of deep cleaning your venue and kitchen from top to bottom.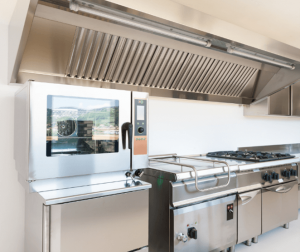 Cleanliness and attention to detail in commercial kitchen cleaning is crucially important. At White Spot Group we guarantee a thorough, unbeatable clean giving you peace of mind and allowing you to focus on your foodservice and the day-to-day operation of your business. When your commercial kitchen cleaning is handled by White Spot Group, the kitchen workspace will be hygienically clean. A clean work environment allows your staff to manage food hygiene more efficiently. A clean, safe work environment also helps staff to feel more motivated and productivity increases.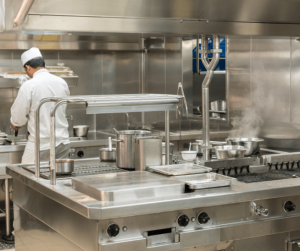 Using professional cleaners for your commercial kitchen cleaning is a smart investment in your business. Our staff are specially trained and use industry best practice to clean difficult to remove grime and grease in those hard-to-reach spots. We specialise in cleaning extraction systems, exhaust fans, rangehoods, ovens, ice machines and all hospitality equipment, so your staff can focus on doing their job and leave the cleaning to the professionals.
Deep cleaning for commercial kitchens
Committing to intermittent deep cleaning of commercial kitchens helps your business to comply with food and safety regulations and ensures you keep on top of potential issues. Problems such as pest infestations, and the risk of spreading bacteria can occur if machines, equipment and surfaces are not cleaned properly on a regular basis. Deep cleaning of commercial kitchens needs to be done every six to eight weeks, to keep on top of built-up burnt food, grease, grime, dirt, and germs. Professional cleaning using specialised products, steam cleaning, degreasing and descaling processes is required to manage the build-up of food and grease over time. Our specialised commercial kitchen cleaning crews have the expertise to work quickly and efficiently to deliver superior results. Contact our friendly staff to discuss our deep cleaning service for your commercial kitchen cleaning.
Cleaning for restaurants, dining areas, bars, pubs, and hotels
White Spot Group cleaning services includes all hospitality cleaning for restaurants, dining areas, bars, pubs and hotels, cafes, catering facilities and all food service venues. We provide full-service cleaning of all areas, including floors, walls, fans, doors, windows, tables, chairs, and all surfaces. Cleaning includes restrooms, storage spaces and outdoor areas. No matter the size of your business from large commercial venues, to small cafes we can tailor a cleaning package to suit your business and your budget.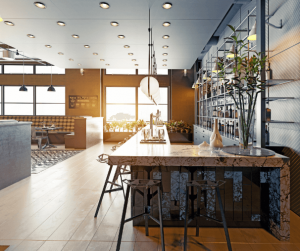 At White Spot Group our commercial kitchen cleaning services guarantee cleaning processes to maintain the highest level of cleanliness and hygiene. We use premium cleaning products, equipment, and practices to deliver superior cleaning results. Let us handle your commercial kitchen cleaning and restaurant cleaning so you can focus on managing the day-to-day operation of your business.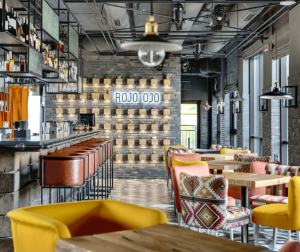 For an obligation-free consultation and quote, contact our friendly team to discuss our commercial kitchen cleaning services. We offer regular contracts for daily, weekly, monthly services, and one-off services as required. Call us now on 1300 797 632 or via WSG contact us form.