Things to consider while requesting a quote for Sanitary Bin Service
Sanitary bins are required in the workplace as they are the safest and most convenient method of disposing of sanitary waste. Due to the humid environment and often limited ventilation, the bathroom can be a large area for bacteria. The right choice for the sanitary box is the most important. Our sanitary containers help you get a hygienic and visually appealing washroom. Here at White Spot Group, we recognise the diverging requirements of our clients. We also recognise that appropriate sanitation maintenance is essential to your company's image. Our Sanitary bins are of good quality and trendy. They are tiny enough to fit next to most toilets and include unique features like a modesty flap. We will provide reliable services for your sanitary bucket as often as meets the needs of your business. As time goes by and your business needs change, we are always happy to adjust the services we provide to better meet your current needs. Just contact one of our friendly customer service staff via email or phone.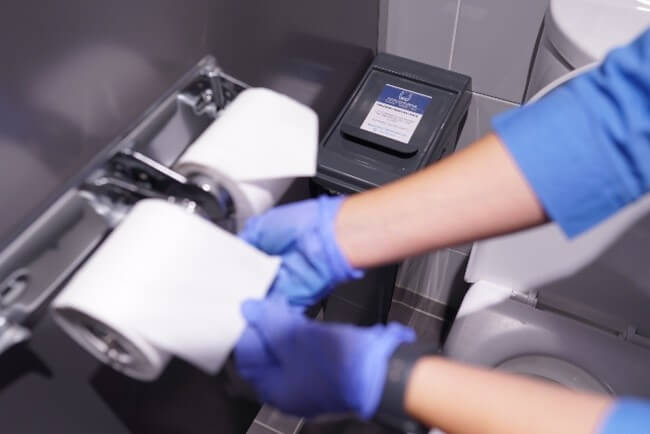 What to ask for in the sanitation service
Every day we receive inquiries from people who ask them for a sanitation budget for their business. In most cases, if the person has never used a sanitary disposal unit in their business before, they do not know what to order or what the difference is in the quote other than the price. As a sanitary bin service provider, this little guide can help you get rid of the confusion.
Things you should know in advance:
There are a few things you should think about before requesting a quote from a group of suppliers. You must provide this information to your supplier when requesting a quote. This makes it much easier for providers to quote the amount and frequency of service and ensures that you do not get ripped off.
• Your business type:
It is important for the supplier to know your business type so that we can assess usage. If you require service for a small office, you will have much less usage than a commercial centre with extremely high usage. This affects the frequency of maintenance of sanitary treatment units.
• How many women are in the office
If you are requesting services for a private organisation and most small businesses, it is better to have a relative idea of ​​the number of women in the office room. If it is a micro business with one employee, the usage and hence frequency of the service will be much lower than that of another micro business employing 10 to 12 women.
• How many compartments are there?
It is expected that you will provide a sanitary treatment device in each compartment. Therefore, it is particularly important to know exactly how many compartments you have on the site.
Keep all of these in mind and you will easily find a local cleaning service provider. At White Spot, we have provided cleaning services to lots of businesses. We tailor our services to all types and sizes of businesses and our customer base ranges from small offices with one employee to government buildings with over twenty females.
Contact us for an easy quote.