Commercial Cleaning Bathurst
White Spot Group povides commercial cleaning Bathurst services including commercial office cleaning, strip and seal, industry cleaning. Bathurst, NSW 2795 cleaning services by White Spot Group includes facility management and professional cleaning services.
Commercial Cleaning Bathurst
White Spot Group is the five star rated commercial cleaning company near Bathurst.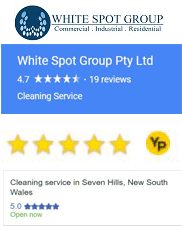 The ratings of White Spot Group Pty Ltd is amazing. We have been rated with 5 star in different platforms based on our customers opinion. That signifies our work efficiency, politeness and professionalism. White Spot Group has experienced staffs who have been working in cleaning field since last 10 years.
White Spot Group provides different services like commercial cleaning in Bathurst including shopping center cleaning. We do professional cleaning jobs like strip and seal cleaning, regular cleaning, industry cleaning, warehouse cleaning, shopping center cleaning. We also provide complete facility management service to our customers in Bathurst.
How to contact White Spot Group for commercial cleaning Bathurst?
It is really easy to get in touch with White Spot Group. You can dial 1300 797 632 to talk with our professional and friendly staffs. You can ask for free quotation and we also provide free consultation. If you are looking for our other extensive services you can reach us on https://whitespotgroup.com.au.
We are sure, you also won't be disappointed with our cleaning services.