When your business depends on walk-in customers such as showrooms, retail outlets and restaurants, clean windows are a significant component of your business success. First impressions create lasting impressions – sparkling clean windows ensure your business is just as presentable on the outside as it is on the inside.
White Spot Group's window cleaning service has established a strong reputation as one of the leading services in Sydney. We pride ourselves on our customer service and guarantee 100% customer satisfaction. Our commercial window cleaners use customized cleaning products and equipment to remove built-up dirt and grime on glass facades, panels, doors, and windows.
Businesses located on busy streets benefit from the exposure to passing traffic, however, they also suffer from the constant build-up of dust, dirt and grime on the windows, glass doors and facades. Keeping windows clean requires constant attention from experienced professional window cleaners. At White Spot Group our window cleaning crews are fully trained to provide fast, efficient window cleaning services for all commercial businesses. Our staff have white card certification for working at heights and use scissor lifts for high window cleaning where space allows or extension poles for reaching heights up to 10metres.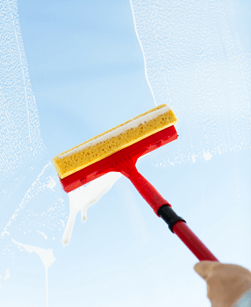 Keeping your storefront windows clean and presentable is an investment in your business. Whether displaying advertisements or showcasing products having clean windows to maintain your storefront display is crucial to attract customers. Making sure your windows are professionally cleaned on a consistent basis is an investment of your business success and reputation.
At White Spot Group our professional experienced staff understand the importance of paying attention to detail including cleaning window frames, sills, and ledges as well as removing cobwebs in hard to reach places. Our cleaners are experienced in difficult to move stains such as build-up of grime from traffic and roadways, bird droppings, and mould. Let us help you protect your business by looking after and preserving the exterior presentation of your premises.
You will be amazed at what a difference White Spot Group window cleaning service can make to give your storefront, showroom, strata and offices. Engaging a professional window cleaning service from White Spot Group will save you time, so you can get on with managing your business, while we take care of the cleaning. At White Spot Group we deliver a high level of service and customer satisfaction. Our service promise includes:
Windows are professionally cleaned with sparkling, streak-free glass every time.
We wipe frames, sills, ledges
Remove cobwebs around windows
Regular cleaning or one-off service is available
No matter what your business, clean windows are crucial. Our professional window cleaners can handle everything from a local bottle shop, retail outlets in shopping centres, car showrooms, or large commercial buildings. No job is too big or too small. Our friendly team are happy to chat to you about your window cleaning needs and tailor an affordable package to meet your budget.
Call now to speak to one of friendly team to discuss our window cleaning service. We provide free consultations and quotations. Call now 1300 797 632