Commercial Office Cleaning Brisbane
White Spot Group is one of the most reliable commercial cleaning suppliers nationwide, offering professional commercial office cleaning services in Brisbane and surrounding area.
Hygienically Clean Results
Our staff are trained to industry best standards to ensure your workplace is spotless and hygienically clean. On-site training is provided to maximise efficiency. Our cleaning protocols and products are regularly reviewed to meet Department of Health guidelines and guarantee superior commercial office cleaning outcomes.
Cleaning Schedules to meet your needs
White Spot Group offers a range of cleaning packages customised to suit the needs of your organisation – daily, weekly, fortnightly or one-off deep cleaning services are available. We work in consultation with our clients to schedule cleaning at times and frequencies that best suit your organisation, taking into consideration staff and customer traffic. With cleaning crews available 24/7 we have the flexibility to schedule commercial office cleaning services in Brisbane to ensure a low impact on your business operations.
Detailed Cleaning for commercial office cleaning Brisbane
White Spot Group staff are highly experienced in attention to detail for all areas, with particular attention to all high-touch surfaces – door handles, handrails, counter tops, desks, phones, keypads. We also concentrate on regular cleaning of floors, shelving, partitions, elevators, stairwells, and storage spaces and additional services such as window cleaning and carpet steam cleaning are available as required. Our reliable cleaning staff are highly efficient and experienced in all types of commercial office cleaning Brisbane – not job is too small or too large.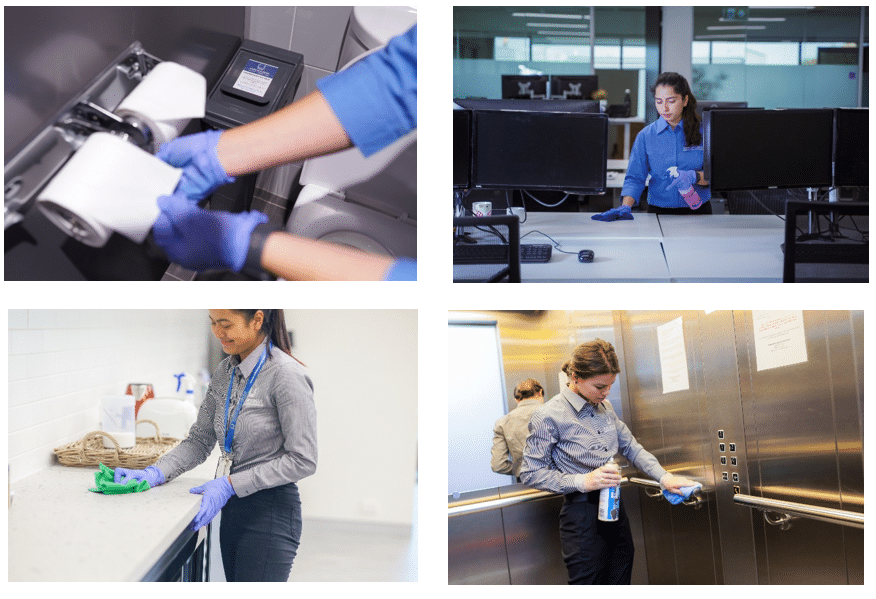 Free consultation and quoting
Our friendly service staff are ready to provide free on-site consultations and quotes for all your commercial office cleaning needs. We can provide written quotes within 48hrs of on-site visits. Our service comes highly recommended with five-star ratings on all platforms. White Spot Group offers affordable pricing and customised services to meet your needs and budget, and guarantee superior results and 100% satisfaction
Extra services available include window cleaning Brisbane; high-pressure cleaning Brisbane; hard floor cleaning Brisbane; strip and seal Brisbane; grounds maintenance and gardening Brisbane; graffiti removal Brisbane.
Let us take care of your cleaning, so you can take care of your business.
Call Now for a free consultation and quote 1300 797 632